In Vitro Fertilization is a form of assisted reproductive technology. The procedure involves combining an egg with a sperm sample in a laboratory and then transferring it back into the female's uterus.
WHO IS IT FOR?
Women with blocked or removed fallopian tubes
Women who have conditions affecting their fertility, like endometriosis or polycystic ovarian syndrome (PCOS).
Couples where the male has a low sperm count.
IVF is generally recommended for women under the age of 40.
SUCCESS
Success rates vary by age. Women under the age of 34 have a 40% success rate, followed by 31% for those aged 35-37, 21% from 38-40, 11% for women aged 41-42, and 5% for women older than 43 years of age.
RECOVERY TIME
While patients are recommended to rest and take things easy following embryo transfer, they can generally return home immediately following the procedure.
POTENTIAL SIDE EFFECTS
Multiple births and ectopic pregnancies
Psychological symptoms such as mood swings and anxiety
Ovarian hyperstimulation syndrome (OHSS) can result when egg sacks produce excess numbers of follicles
ALTERNATIVE TREATMENTS
Intrauterine Insemination (IUI)
Intra Cytoplasmic Sperm Injection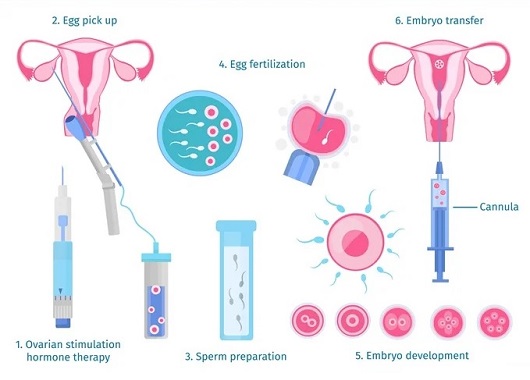 BEFORE TREATMENT
If you are planning on losing weight, your surgeon will likely advise that you do so before undergoing a facelift procedure in order to achieve optimum results. If you're a smoker, you will be advised to stop smoking before your surgery to help with recovery.
You will, of course, have a consultation with your surgeon prior to the treatment. At this point, you should ensure you are fully aware of any pre-op notes and instructions given to you by the doctor.
Most hospitals request that you don't eat or drink anything 12 hours before your surgery. But this often varies from clinic to clinic, so do check the requirements of your specific hospital.
You might want to bring a headscarf and some sunglasses to disguise the bruising when leaving the hospital.
You will also need to have someone drive you home. Make sure you also arrange around 2-3 weeks off work to rest and recover and to allow any bruising to subside.
DURING TREATMENT
Remove all large jewelry or leave it at home.
Remove fake nails and nail polish (you may have a pulse monitor put onto your finger during surgery).
Facelifts are usually performed with a general anaesthetic, which can make you feel drowsy and groggy after surgery. You will likely have some swelling and bruising when you wake up, and you will have to spend at least one to two days in the hospital after your procedure.
AFTER TREATMENT
It is recommended that you prop up your head and keep it elevated for the first few days after surgery in order to avoid any sudden movements or straining
You can expect your bandages to be removed between two to five days after your procedure. After about a week, your stitches will also be removed .
For the first two days you won't be able to get the bandages wet, and you should avoid showering. Please also refrain from any strenuous activity for at least two weeks.
Any bruising, redness and scarring should start to fade several weeks after the treatment, with the full effect seen about six to nine months after your surgery.