Dental implants are a popular way to improve the health and stability of your mouth. If you have one or more missing teeth, a dental implant can help you smile, talk and chew confidently again.
WHO IS IT FOR?
Individuals who need replacement of a single tooth
Patients who need replacement of several teeth with an implant-supported bridge or single crowns
Patients who need to replace a complete denture with a bridge supported on several implants
Individuals with sufficient bone density and volume in the jaw (otherwise bone grafting may be a viable solution)
SUCCESS
Up to 98%
RECOVERY TIME
Short-term: one week for implant site and gums to heal
Long-term: healing time after implant session takes 4 to 6 months
POTENTIAL SIDE EFFECTS
Infection at the implant site
Injury or damage to surrounding structures (teeth or blood vessels)
Nerve damage during placement of implant, causing pain or numbness
Failure in the integration of the implant to the bone
ALTERNATIVE TREATMENTS
Bridges
Dentures
All-on-4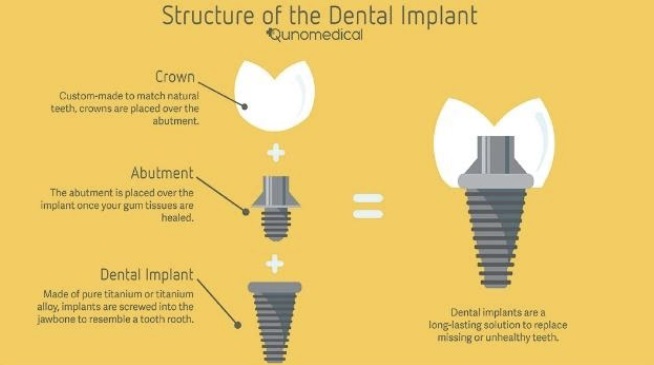 BEFORE TREATMENT
Do not smoke or drink alcohol for at least 3 days before surgery.
Avoid blood thinners one week before surgery.
Brush and floss properly before surgery and in general, keep good oral hygiene the week before your treatment.
Eat healthy food and keep yourself hydrated.
DURING TREATMENT
Wear loose, comfortable clothing.
Have someone accompany you for support in case you feel dizzy or drowsy due to anesthesia or sedation.
AFTER TREATMENT
Do not smoke for at least 2 weeks after surgery.
Avoid alcohol for 2 weeks after surgery.
Eat cold food for the first 24 hours (such as ice cream, jelly, or juices).
Eat soft food for a week after surgery.
Try to avoid chewing hard items, such as ice or hard candy, as much as possible.
Take care of your oral hygiene every day by brushing your teeth twice a day, flossing every night, and using a mouthwash.
Do not touch the wound.
Try not to spit very often.
Have a proper rest during the week following surgery.
Do regular check-ups (preferably every 6-12 months) to assess the stability of the implant, and go to your dentist if you bleed heavily, the pain increases, or you notice a bad smell or taste in your mouth.