Gastric balloon surgery is an alternative and temporary weight loss procedure, involving the use of a saline-filled silicone balloon to fill the stomach. This limits the intake of food and make the patient feel fuller for longer.
WHO IS IT FOR?
People within the BMI range of 30-40
SUCCESS
Success rates vary by age. Women under the age of 34 have a 40% success rate, followed by 31% for those aged 35-37, 21% from 38-40, 11% for women aged 41-42, and 5% for women older than 43 years of age.
RECOVERY TIME
You can expect some nausea during the week after insertion.
The balloon usually empties gradually and must be removed through a second endoscopic procedure.
POTENTIAL SIDE EFFECTS
Sore throat
Reflux
Abdominal pain
Abdominal cramping
Nausea and vomiting
Bad breath
Some of the rarer side-effects include bleeding, chest infection and breathing complications.
ALTERNATIVE TREATMENTS
Gastric Sleeve
Adjustable Gastric Band
Gastric Bypass Surgery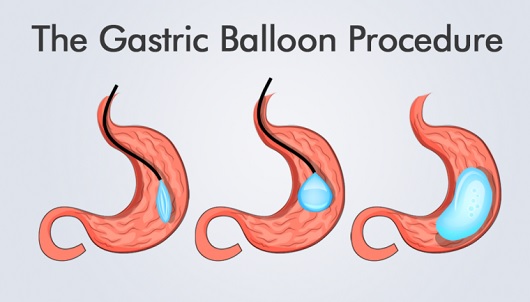 BEFORE TREATMENT
You will be advised to refrain from eating and drinking during the hours before the procedure. Make sure you follow the surgeon's guidelines.
You'll probably be a little shaken and drowsy after the procedure, so arrange a lift home from the hospital in advance.
Arrange a few days off work to recuperate after the insertion process. You may feel nauseous and experience stomach pain for several days afterwards.
DURING TREATMENT
You'll be given a local anaesthetic and hence you'll be awake throughout the procedure, so try to stay as calm as possible. Your doctor should be able to help you do this, so don't hesitate to convey how you are feeling throughout the procedure.
AFTER TREATMENT
In many ways, the actual process of inserting a gastric balloon is only the beginning of the treatment. You'll need to take acid-suppressant medication (lansoprazole or omeprazole) while the balloon remains in your stomach.
You may need to take medication to control nausea and cramping.
Follow a liquid-only diet for the first five days after the procedure.
Slowly re-introduce solid foods.
Eat at regular intervals throughout the day.
Refrain from drinking alcohol or excessive amounts of caffeine.
Get regular exercise (at least 30 minutes a day).
Make permanent lifestyle changes – a gastric balloon is a short-term fix to give your weight-loss efforts a kick-start.