Gynecomastia surgery (also known as male breast reduction) works by removing the excess tissue comprising the breasts and creating the more desired contours for the chest wall.
WHO IS IT FOR?
Men with stable breast size and development
Men who feel their breasts are too large
Men who cannot be treated with non-surgical options
Non-smokers and non-drug users
Men who are healthy and of stable weight
Men with realistic expectations, a positive outlook and specific goals
SUCCESS
Most men who undergo gynecomastia surgery report that they are either "satisfied" or "extremely satisfied" with their results.
RECOVERY TIME
Back to the office: 2, 3 days
Back to physical work: 10-14 days
Back to the gym: 2 weeks for non-chest workouts and 6 weeks for chest and high-impact cardio workouts
Hospital stay: 1 night
POTENTIAL SIDE EFFECTS
Anesthesia reactions
Bleeding or blood clots
Infection
Breast asymmetry
Shape or contour irregularities
Temporary or permanent changes in nipple or breast sensation
Damage to nerves, blood vessels, muscles or lungs
Fat necrosis
Unfavorable scarring
ALTERNATIVE TREATMENTS
Liposuction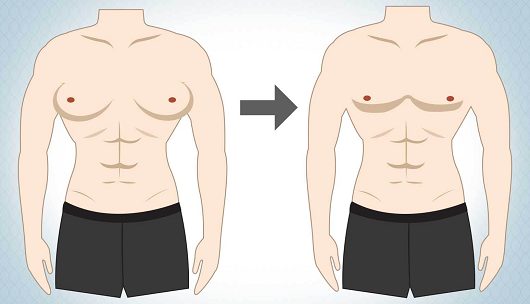 BEFORE TREATMENT
Avoid smoking at least 2 weeks before surgery.
Quit using any herbal supplements, aspirin and anti-inflammatory drugs before surgery.
Review your surgeon's instructions about eating and drinking before surgery and taking your prescription medications.
Pick up your post-surgery medications from the pharmacy, if necessary, so that you will be able to go home and rest immediately after your procedure.
DURING TREATMENT
Do not use any deodorant, lotions, gels, cologne or other products, which could increase the risk of infection.
AFTER TREATMENT
Keep your head and chest elevated at a 45-degree angle until you are comfortable enough to sleep flat.
If you are wearing a binder, adjust it regularly, but maintain a gentle pressure to ensure adequate circulation.
Avoid heavy lifting and sexual activity for two weeks after surgery.
You will also need to wait about two weeks or as long as the incisions are in place before taking a bath or swimming.
You can shower 24 hours after surgery.
Do not smoke for a week after surgery, and take your medications as prescribed. You may need to continue to wear a compression garment for several weeks after your procedure.