A hair transplant is an outpatient surgical procedure that involves transplanting new hair follicles into balding or thinning areas. This minimally-invasive procedure can permanently restore the hair of men and women who are experiencing partial baldness.
WHO IS IT FOR?
Individuals with partial baldness due to male-pattern baldness (androgenic alopecia)
A receding hairline
Traction alopecia
Head trauma.
SUCCESS
90-95%
RECOVERY TIME
Light routine activities can be resumed 2 days after surgery.
Back to the office: 3 days.
Back to the gym: 1 month.
Back to swimming and steam baths: 1 month.
Back to wearing hats or hard hats: 4 weeks.
POTENTIAL SIDE EFFECTS
Pain
Bleeding
Infection
Swelling or redness of the scalp and/or forehead
ALTERNATIVE TREATMENTS
FUT Hair Transplant
Beard Transplant
Hairline Lowering Surgery
Hair Pigmentation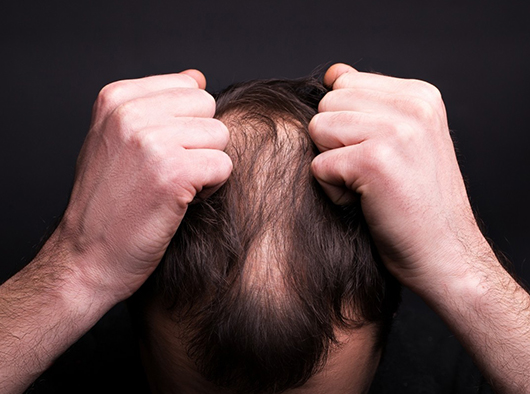 BEFORE TREATMENT
Do not smoke 24 hours before the treatment.
Don't drink alcohol 3 days before the treatment.
Don't use aspirin or vitamins B and E one week before the treatment.
Do not use any gel or sprays before the treatment.
Bring a button-down shirt and wear it on the day of surgery as you won't be able to pull anything over your head.
Inform your doctor if you have allergies to medications, had abnormal blood test results recently, have a chronic illness, or take medications regularly.
DURING TREATMENT
You will receive local anesthesia during your treatment, so you will be awake and able to read, watch television, or take a nap.
AFTER TREATMENT
Do not smoke for the first 3 days after surgery.
If you're staying at a hotel, bring your favourite snacks to eat in your room, as surgery may last till late with no option to buy food before going back to your accommodation.
Sleep lying on your back during the first week after surgery. Many patients use a v-shaped pillow for better sleep, as it keeps your head high.
Avoid alcohol and sexual intercourse for the first 7 days after surgery. Also avoid dusty environments.
Cut your hair with scissors only for the first 6 months. Hair clippers may damage your hair. You can dye your hair after 6 months.