Heart bypass is a vascular surgery that is done for fixing blockages in the coronary arteries.
WHO IS IT FOR?
Individuals with coronary artery disease.
In an emergency, in case of a heart attack.
Individuals that have previously had other unsuccessful treatments against blocked arteries.
SUCCESS
Over 95%.
RECOVERY TIME
6-12 weeks.
POTENTIAL SIDE EFFECTS
Bleeding.
Arrhythmias.
Infections.
Possibility of cognitive deficiencies.
Kidney problems.
Stroke.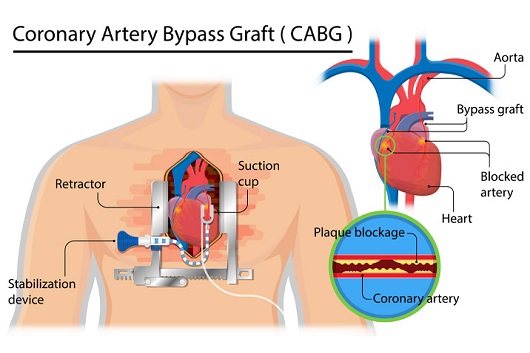 BEFORE TREATMENT
Have a thorough meeting with your doctor and understand the surgery you will be undergoing.
Adhere to any lifestyle changes that are required before the surgery.
Make arrangements for your care and other chores at home/work after the surgery.
DURING TREATMENT
You will be placed under general anaesthesia.
AFTER TREATMENT
Follow your prescribed medications.
Modify your lifestyle to ensure good long term outcomes.
Make sure to speak to your doctor in case you have unexpected side effects.
Be open about your thoughts or feelings, and always speak to and spend time with your loved ones.