An ear surgery (also known as an otoplasty) is cosmetic surgery aimed at changing the shape, size or angle of your ears. In most cases, this surgery involves pinning back protruding ears to deliver a more pleasing look.
WHO IS IT FOR?
People who are self-conscious about the size, shape or angle of their ears
Otoplasty is mostly done on children and adolescents but adults request the treatment as well
SUCCESS
Success rates vary around the world but are well in excess of 90 percent in Asia and Europe.
RECOVERY TIME
Return to work or school in about 1 week
Avoid contact sports and other forms of vigorous activity for around 3 months
Numbness and swelling can last for up to 2 weeks
Pain can linger for several months after the procedure
POTENTIAL SIDE EFFECTS
Infection of the skin and cartilage
Bleeding and blood clots
Inflammation
Recurrence of the original issue (ears may return to their original position)
Asymmetrical ears
Over-correction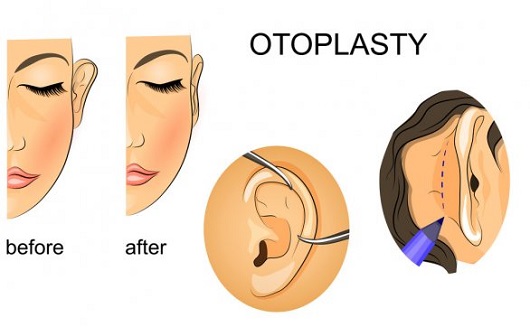 BEFORE TREATMENT
Follow pre-surgery advice from your doctor. You might be asked not to drink or eat before the procedure.
You'll probably be discharged the same day as your procedure, so arrange a lift home (you won't be able to drive).
Arrange three or four days off work or school to recuperate.
DURING TREATMENT
Wear loose, comfortable clothing.
Remove all large jewelry or leave it at home.
AFTER TREATMENT
Attend all of your post-operative appointments and check-ups.
Manage moderate pain with over-the-counter pain-relief.
Avoid rigorous or contact sports for at least three months after the procedure.
Make sure you wear your protective headband for bed after the bandages are removed.