Rhinoplasty, commonly referred to as a nose job, is a surgical procedure to change the nose's shape and appearance for either cosmetic reasons or medical reasons, such as to correct breathing problems or trauma.
WHO IS IT FOR?
People looking to change the aesthetics of their nose (e.g. tip shape, bridge size or slope)
People looking to correct disfigurement from trauma (e.g damage following a severely broken nose)
Rhinoplasty is most effective if facial growth is complete
SUCCESS
The success of a rhinoplasty procedure is a highly personal topic. While modern surgeons are able to perform the technical aspects of the procedure with very high success rates, the outcome of the procedure also relies heavily on factors that are out of their control: quality of your nasal tissue, cartilage and bone, healing process and your own perception of results. It is important to ensure you have realistic expectations and goals for your rhinoplasty, as dysmorphia and similar issues can lead to dissatisfaction.
RECOVERY TIME
Short term: 5 – 7 days to resume activity
Mid-term: 7 – 14 days for majority of bruising and swelling to reduce
Long term: 4 – 6 weeks for external healing, subtle changes are noticeable for up to one year
POTENTIAL SIDE EFFECTS
Numbness
Nosebleeds
Scarring at the base of the nose
Swelling
Nerve damage
Under or over correction (which can require revision rhinoplasty)
ALTERNATIVE TREATMENTS
FUT Hair Transplant
Beard Transplant
Hairline Lowering Surgery
Hair Pigmentation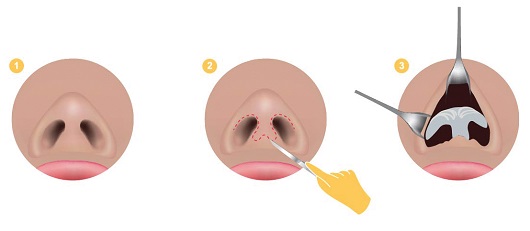 BEFORE TREATMENT
Ensure you are medically fit and in good health.
Have a positive outlook and realistic goals in mind.
Eat a healthy diet.
Do not smoke or drink alcohol for at least 2 weeks before surgery.
Confirm if any current medications will interfere with the anesthetic or healing process.
Have a good night's rest the night before surgery.
Do not eat or drink for 12 hours before surgery.
DURING TREATMENT
Wear loose, comfortable clothing.
Bring a friend to accompany you after surgery, should you feel dizzy or drowsy due to anesthesia or sedation.
AFTER TREATMENT
Make arrangements to have someone take you home after the procedure.
Do not smoke or drink alcohol for at least 2 weeks after surgery.
Do not touch the wound or packing.
Take aspirin or similar painkillers if experiencing discomfort.
Maintain healthy diet and good hydration.