Are your eyelids disrupting your vision or are you looking to get younger, more alert looking eyes? Then, blepharoplasty may be a viable solution to your problems. It is a versatile eye surgery performed to either adjust abnormalities or defects of the eyelids or for aesthetic purposes.
WHO IS IT FOR?
Patients whose upper eyelids are droopy or sagging due to excessive skin or fat, causing impairments in vision
Patients with excessive lower eyelid skin
Patients who are looking to improve the appearance of their eyes to achieve a more youthful look
SUCCESS
The surgery has a 90-95% success rate.
RECOVERY TIME
Approximately 2 weeks for the bruising and swelling to subside and a few months for the scars to fade.
POTENTIAL SIDE EFFECTS
Dry and/or irritated eyes
Distinct scarring
Infection
Bleeding
Blurred vision
Difficulty closing eyes
ALTERNATIVE TREATMENTS
Botox Injection
Thread Lift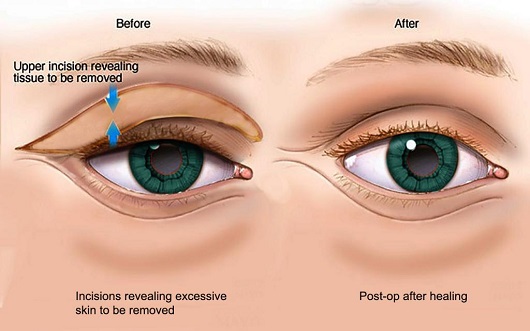 BEFORE TREATMENT
Have an initial consultation with your surgeon to fully understand the procedure and the risks associated with it. In case you are doing this for aesthetic reasons, make sure your surgeon is fully aware of your expectations.
You will be asked to undergo a vision test as well, to fully understand the scope of your problem.
Only take medication that has been approved by your surgeon.
Avoid smoking a few weeks prior to your surgery.
Arrange for someone to drive you home after the surgery, and to help you during recovery.
DURING TREATMENT
The surgery can be performed either using local or general anaesthesia. The type of anaesthetic used depends on the complexity of the case.
AFTER TREATMENT
You should regularly apply ice packs or warm compresses on your eyelids for the first few days.
Avoid wearing contact lenses or any eye make-up.
Keep your eyes clean, and regularly apply any ointment or eye drops that have been prescribed.
Avoid strenuous exercise for a week following the surgery.
Smoking should be avoided.
Protect your eyes from direct sunlight and wind.
Only take medications that your surgeon allows.
If need be, make sure to get your stitches removed.